Are you trying to know how to create chat rooms in WordPress for your users?.
With a chat room on your Website, your users can communicate without making use of any third-party platform like Skype or IRC.
In this article, we are going to be showing you how you can create a chat room on your WordPress website.
Importance of Chat Room in WordPress
Having a chat room in WordPress is very important most especially if you are running a membership website or an Online forum. The chat room will allow your users to send and receive messages instantly to each other without leaving your website.
Instead of using third-party services like Facebook, WhatsApp, Discord, etc. Your users will be able to communicate directly on your website. Bear in mind that these chat rooms can only be used by a small community of users.
Some other important benefits of using Chat room in WordPress are;
Boosts user satisfaction: When users all chat in one room, it creates a conducive environment for the user or customers to discover people with the same interests or issues to share ideas and possibly find solutions to any issue. This will also allow them to create a stronger bond and improves engagement on your website.
Strengthens the bonds between your website and customers: According to Live chat statistics made, it was discovered that 63% of the users who used live chats on a website are most likely to come back. The more they return to your Website, the Better the bonds between both of you become stronger. This is very essential as it can also boost the trustworthiness of your website.
Helps site owners know more about their customers: Being the chat operator you will be able to engage better with your visitors and also understand them better. When you are able to understand your user's behavior, you will be able to boost your conversion rates, build better marketing campaigns, boost engagement and also help attract more visitors because you are giving them what they want.
Now, let's proceed to see how to easily add a chat room to your WordPress website.
Install and Activate Chat Rooms in WordPress
First, you will need to install and activate the Chat Room plugin. On your WordPress Dashboard Menu, go to Plugins » Add new the Search for Simple Ajax Chat By Jeff Starr.

Click on Install Now and Activate the plugin.
After activating the plugin, you need to set up your chat room by going to Settings » Simple Ajax Chat.
In the Simple Ajax Chat settings page, click on the Plugin Settings section and change the default name of your chat under the "General option".
Still no the Plugin settings, you will see a bunch of options that can be used to customize your chat room the way you like.
You can make login required for users before they can make use of the chat feature or users can use their logged-in username as their chat name, and more.
For instance, you can require users to be logged in to use the chat feature, Enable users to specify a URL for their chat name, Play sound alert for new chat messages, and more.
The appearance of your chat room can also be customized and moderate abusive words or phrases if you want to.
How to Display Your Chat Room in WordPress.
After setting up and customizing your Chat room, it's now time to display your Chat Room in WordPress for your users.
Still on the Simple Ajax Chat settings the Shortcode & Template Tag section and click on it.
On the Shortcode & Template Tag section, copy the Shortcode you see [sac_happens].
After copying the code, go to your text editor on your WordPress dashboard, and name your page.
Now, Paste the copied '[sac_happens]' Shortcode into the editor to display your chat room.
For those who make use of the WordPress block editor, for you to be able to add the shortcode, simply click on the "+" sign at the upper left corner of the Block editor.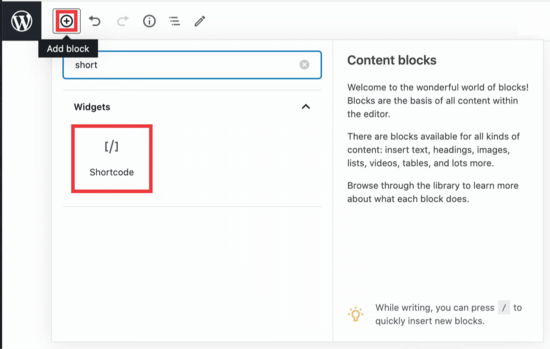 Search for the shortcode block and add it to your page and then enter the copied shortcode into the area.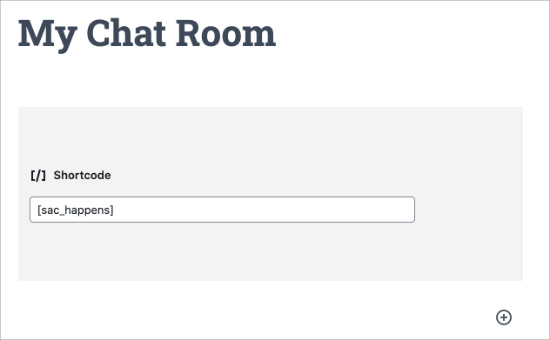 After that, go ahead and click Publish or preview to see your chat room. The screenshot below shows what the chat room will look like on your website.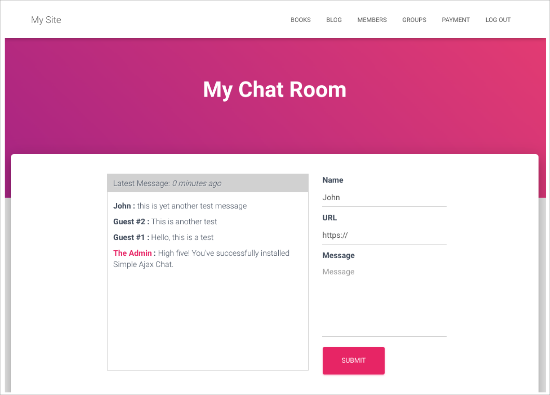 Now your users can interact with each other on your website without leaving or using a third-party service.
Bonus
Simple Ajax Chat is not the only WordPress ChatRoom plugin out there, we also have some amazing chat plugins like;
Rumble Talk Live Group Chat (Free and Premium)
This is an amazing Chat Room plugin with a lot of group chat models, including live online events, members chat, live community, and more.
Its features include;
Easy to integrate
Auto-login for website members.
Audio and video calls for private discussions
Various payment collecting options: collect donations, send payment requests
2. WPGroupChat – Live Group Chat (Premium)
WpGroupChat, is another Chat plugin for WordPress that has all the requirements needed to host a community chat on your WordPress website. Users can join chats easily by either entering their Name and Email address.
Some of the main features of WpGroupChat are;
Very easy to set up
Integration with 17 autoresponder service providers
Various emoticon and avatars
Highly customizable with widget themes and color settings
3. Chat Room Group Chat (Premium)
WordPress Chat Room, better known as Chatroom is one of the best WordPress Chat room plugins.
Some of the WordPress Chat Room features include;
You can create both open and private chats
You can create multiple chat rooms at a time
Member search function
File share
80 smiley icons
We hope this article was helpful and useful to you. You can also check out How to Easily Embed iFrame Code in WordPress (3 simple steps).